COLLOCATIONS WITH MAKE, PLAY, RIDE
Teacher's Zone
Dear Teachers, you are welcome to try a new set of resources which have appeared on the Teacher's Zone website. You are able to find and download free flashcards and printable
worksheets for the collocations with the verbs: make, play and ride
.
This set of flashcards includes such collocations as
make (a poster, cupcakes), play (computer games, a board game, cards, chess, the piano, the violin, football, volleyball), ride (a bike, a horse).
You can print them or display on the board.
Click the image below to download flash cards for collocations with make, play and ride.
If you would like to practise the vocabulary with your EFL students, use the worksheets for these collocations which are related to the flashcards.
Click the image below to download free printable worksheets for collocations.
If you find these materials useful, please leave a comment and share them. Enjoy teaching with Teacher's Zone resources!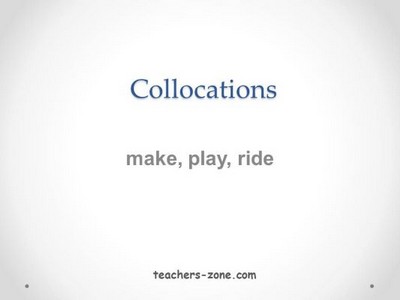 There are no reviews yet.